History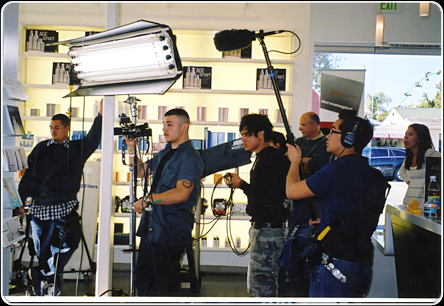 In 1992, the Los Angeles Riots over a six day period changed lives forever; 4,000 people were injured, 12,000 people were arrested and 53 people died. Widespread looting, assault, arson and murder occurred, and property damage totaled US$1 billion. Many of the crimes were racially motivated or perpetrated. Economic factors such as poverty and high levels of unemployment are argued to have contributed to the riots.
Inner-City Filmmakers (ICF) was founded by working professionals who were deeply moved by this history making event. Fred Heinrich, Film Editor and a graduate of USC School of Cinema and owner of Wildwood Films, a postproduction facility in Hollywood for 30 years, and Stephania Lipner, a successful TV Commercial Producer.
Together, they established Inner-City Filmmakers, a 501(c)(3) non-profit organization, to provide free year-round high quality education and job placement services for diverse disadvantaged youth, ages 17-22, of Los Angeles County. Their goal was to address the economic gap and the lack of access to resources and jobs, and to help diverse disadvantaged youth reach their fullest potential and change their lives.
Today, Inner-City Filmmakers continues to be fueled by the many challenges still facing youth:

| | |
| --- | --- |
| (1) | The government's failed No Child Left Behind reading program |
| (2) | LAUSD's recent spending freeze and suspension of key arts programs |
| (3) | Recent faculty cuts, which will lead to larger class sizes in schools |
| (4) | Qualified California students squeezed out of colleges as part of a plan to slash enrollment by 10,000 students |
| (5) | Out-of-state students willing to pay higher college fees< |
| (6) | Lack of jobs and career building job opportunities, which lead to apathy, dropouts, an unskilled workforce and increased crime. |
Did you know that less than 1/2 of all students get diplomas, yet 3/4 of all jobs need college diplomas? Did you know that each year, we accept 30 to 40 new "incoming" students while also providing ongoing and continuous support and services for our growing student body of over 433 graduates?
Over 75% of our students come from struggling first-generation immigrant families with a wide range of social and cultural attitudes that historically inhibit success. Over 60% of our students come from families of six or more with an income of $30,000 or less. Demographics include - 33% female, 61% Latino, 21% African American, 7% Asian/Pacific Islanders, and 11% other.
Overall, 95% of our students attend college. Many are on scholarships at universities that include - Art Center School of Design, Art Institute of Los Angeles & San Francisco, UC Berkeley, Brooks Institute, UC Davis, Loyola Marymount, Otis School of Art & Design, NYU, UCI, USC, UCLA and other state universities, plus Williams College, Williamstown, MA.
Today, Inner-City Filmmakers is a thriving educational institution with many student success stories, both large and small. Over 50% of our students have been successfully matched to a variety of over 600 entry-level industry jobs. Many are working members of the Motion Picture Editors Guild, Cinematographers Guild, Costume, Grips, Props, and Studio Electrical Lighting Technicians Unions and the Directors Guild of America.
Gil Kenan, Director, is an ICF 1994 alumnus and a 2007 Academy Award® nominee for Best Animated Feature Film for Monster House, his first feature film, which was executive produced by Steven Spielberg and Robert Zemeckis. Gil also directed City of Ember, his first live action film for Fox Walden and Playtone partners Tom Hanks and Gary Goetzman. Gil has a Masters degree in Animation from UCLA.
Our students are well trained and also succeed in other businesses that include, but are not limited to - Lawyer for the FCC in Washington D.C., Public Administrator for Los Angeles County, Psychiatric Clinical Social Worker, Professor at CSUN, Police-woman, and a Film Preservationist for the Academy of Motion Picture Arts and Sciences.
During the year ICF representatives speak to high school educators and their students about the many opportunities we provide while recruiting these students for our intensive entry-level Summer Program. Our alumni, only a year or two older; inform, inspire, and provide hope while also improving their verbal skills and increasing self-confidence.
Los Angeles, California is the home to activities of Inner-City Filmmakers. Our headquarters is based at the Lantana Center at 3000 West Olympic Boulevard in Santa Monica, California 90404.
"Inner-City Filmmakers is a key to success; Integrity, Consistency and Fundamentals." Ryan Gaitan, Class of 2008